SOME HEARTS BROKEN,
by linda marie pharaoh-carlson©copyright,
all rights reserved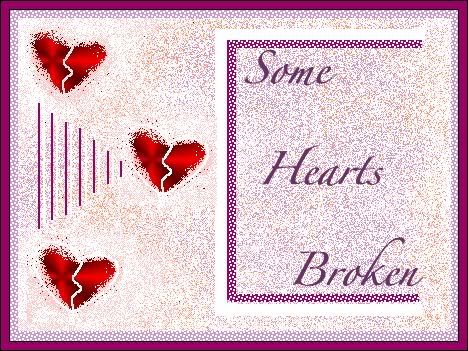 Some hearts broken
Can be patched and pieced and tied
To continue beating on.
They may quiver and shake,
And rumble and whimper,
Yet do the work set before them.


Some hearts carry enormous struggle...
To the point that all of life is
Squeezed and oozing out.
But that flattened, feeble, faintly beating heart,
Does not stay down.
No - it picks itself up and shifts the load
And carrys on.


Hearts so small can almost burst
From joys and laughter at the good in life.
And still they calm to catch the tears that flow
From the pain that comes to those they love,
To offer strength
And offer hope.


To live is to feel.
To feel is life, and at the center of life
The hub of all things, lies the heart.
With rhythmic precision keeping time with all
That makes life so real.
And in so doing, we - become real.
We are the rhythm, we are the pulse that spins the world.


And perhaps we are those
Who in the long journey,
Will keep up with the beat.
When these weak vessels which hold so much of life
That it seems they will break,
Encounter love, encounter hate,
And learn from them
That the realm of both always contains...


Some hearts broken.

Quick Nav: