This page is dedicated to our sweet and precious Katy Mabel Josephine Carlson. A bundle of fur that we were privileged to have with us for fifteen years of wonderful life shared. Our "pets" are more to us than that. They are such a part of our daily lives and become so engrained in our hearts, that losing them takes a time of grieving akin to nothing else. They are there for us. Loyal, loving, undemanding, treasured friends for as long as God allows them to stay. Katy is one of many of our beloved friends who have gone before us. One of my first questions to God when I get to heaven is going to be, "God, why couldn't our dear sweet furry friends live at least as long as we did while on earth"? They, of anyone else, deserved to live very long and lasting lives of joy.
Our Katy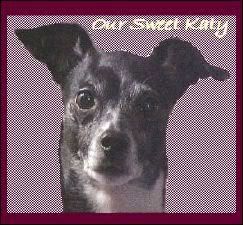 It was early February, 1994. I had just returned from a trip up north to Minnesota with some family friends to see our sons who were attending classes at Crown College. While there, our son sort of "booted out" the guys in his living space to accomodate "mom" for the couple of days stay. We made a run to the grocery store and purchased a few grocery/munchie things and rented the movie 101 Dalmations. We returned to the room and went about the settling in for the evening to enjoy the movie together. At it's end, Our youngest son, Jason, had commented that he wouldn't mind having another dog, he didn't think. Quite a comment from him considering it had been a full two years since we all endured the loss of our precious Patches (Patchy) as she was affectionately known by all. A tri-colored Rat Terrier cutie who had stolen our hearts when our boys were tiny themselves. She and they grew up together and lived a full and happy life together of seventeen years. We had just made it past her 17th birthday and Christmas. Chad Michael was home and Jason on Christmas break. We had all gone to bed after a wonderul Christmas when in the middle of the night we were awakened to Patchy's dreadful mournful cry. She had suffered a heart attack and we had several hours to sit with her before the Vet opened his doors. Our oldest son and I took her over to be quietly put to rest. It was so very hard and it took a good solid couple of years to actually get to the point where we could even consider finding another companion. But, that tidy little off-hand comment was enough for me to set things in motion upon my return home. I had been watching the newspaper ads and sure enough, one day there it was! An ad touting black and white Rat Terrier puppies for sale and not far from us. So, despite the objections by my husband and being singularly-minded, I grabbed my oldest sister and off I went to seek out the communicators of said 'intent to provide a loving companion' to us.



When we arrived at the farm, we were led to the barn where we saw "mom" and a couple of little ones in the straw right next to her. A male and a female. I picked up the little girl and thought she'd be just perfect for my little "Dalmation Surprise". I paid the man and off we went. It was very cold and snowy out and she was a tiny little thing. When I arrived back home I thought that the thing to do would be to let her get down to do a bit of business before introducing her to dear hubby. Well, the little rascal took off like she'd been shot from a cannon, skittering atop the crusty snow lickety-split! I of course, had no recourse but to follow in hot pursuit. Only this tubby human body bundled to the hilt against the cold wasn't skittering a bit, more like laboring rather moose-like and feeling every asthmatic breath against the cold. As I arrived at the spot at the end of her journey (under the neighbor's car across the empty lot on the corner), I thought to myself and then uttered a brief synopsis of the situation heaven-ward to an awaiting God's ever atuned ears..."Oh Great, God...I went against my husband's wishes to surprise our son and he'll have a regal-royal one to come home to at that"! "A mom's funeral, BUT, a new puppy afterall"! I surmised, as I called out repeatedly, "Here, puppy, puppy, puppy", that the only way to capture my new little elusive friend was to take off my winter coat and fling it over her if she even came out at all. It worked and back toward home I trudged holding her in my coat, and just trying to breathe. It took awhile after arriving at home in the nice warm house to do that (breathe, that is). Now, Jerry never said, "I told you so", or any such gibberish (I think he was too concerned about my expiring right in front of his eyes), and she seemed to "weather" the whole experience well. She zipped all over the place like a 'houseafire'that first night and I knew we were "in for it"! The next day I put a little collar on her and noticed that she hadn't or wouldn't move from the chair she had been doing jumping jimminies off of the night before. I waited and waited and waited...and nothing. Not a fraction of an inch did this little dynamo move. I thought to myself, "Oh no, we broke her"! It took awhile to realize that she, for whatever reason felt tethered to that chair the minute the collar went on. So off it came and she was her zippy puppy self again almost immediately.




I couldn't wait to let Jason meet his new girl. I told him he had a surprise, but he'd have to wait until he came home for spring break. I called her puppy-doodle for quite awhile, leaving the proper naming to him, after all...she was his dog. I had thought of several names she COULD have been named, among them 'Valentine', since it was Valentine's day when we picked her up. But the final decision would be Jasons. Well, as it happened, Jason called from school to say he was heading for Florida with friends for spring break, heading for the areas ravaged by hurricane Andrew to see if they could help. One of the guy's Aunt and Uncle lived in Fort Meyers there, and would be putting them up part of the time. Needless to say, it was gratifying to see these young men willing to give back, but dissapointing that our little fur-bundle would have to wait for her name. I showed her pictures of Jason every day and told her "See, that's our Jason", and "You are his puppy". Toward the end of March when we knew we probably wouldn't see him until classes were over, I finally broke down and told him about her and sent a picture so he could "meet" her. We traveled up to school, puppy in tow, to move Jason home after classes and the thing is, that silly little pup saw him out of all the others walking toward the school from his dorm with two other guys and just about leaped out of the car window to get at him. She KNEW that was "her Jason" from the get-go! There was a deep and permanent bond from that moment on for the next fifteen years running.



We took her with us that same year when she was just yet a few months old, on a 22 hour drive trip to Alabama and Florida to see my sister that year. She traveled well for being so new and no bigger than a minute. She loved her excursions to the Dairy Queen for a bit of vanilla ice cream from time to time. She was so smart and playful, she minded so well, and she was as empathetic to our sad days as she was overjoyed with the good. She LOVED birthdays and didn't care whose it was, she'd be right there helping to open their gifts. Of course she had her own and Christmas (which was her very favorite) to open her oodles of toys and treats, but we would always tuck in a doggy treat or some cheerios or some such thing whenever WE had a celebration, just so she would have something too. She got so excited! She was our little lovey. Our life-companion, confidant, sharer of life, beloved friend. She was LOVED with a capital "L", And she will always be in our hearts.

In memory of Katy, our forever friend. With much love.


Katy Mabel Josephine Carlson
Born December 22nd, 1993
Died March 23rd, 2008 (Easter Sunday)