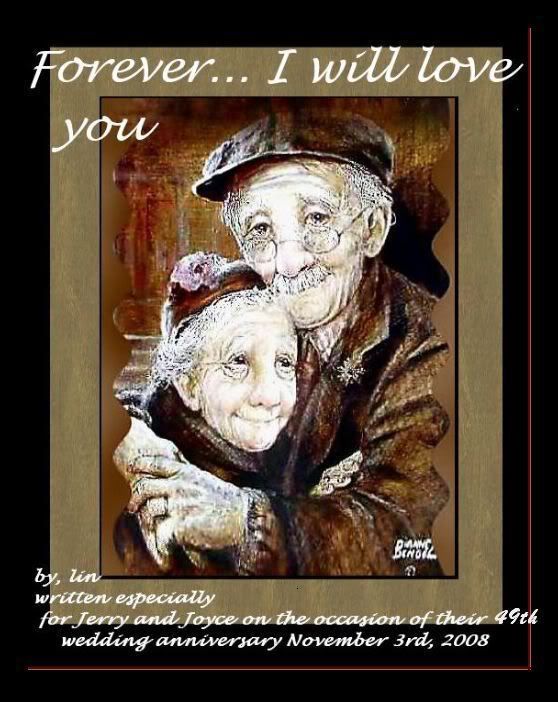 Forever I Will Love You (for my brother and sister-in-law), by linda carlson


Two young teenyboppers Just starting out in life
He said, "You know I love you so..."
"Would you consent to be my wife?"

She answered very quickly,
With a twinkle in her eye,
And made that young man jump for joy
When he heard "Yes" as her reply.




The years, they've passed so swiftly.
So many cherished moments to recall.
And step by step and side by side,
They've been together in them all.

She asked, "Will you still love me..."
"When we've both turned old and gray?"
He looked deep into her eyes and said,
"Just try to keep me away"




"I've loved you from the beginning...
Right from the very start"... she smiled
And held him oh, so close,
She could feel every beat of his heart.

And hand in hand they walked the pathways
God chose especially for the two,
And blessings came, as well as storms,
That had to be weathered through.



And still today that love does shine,
As strong as ever it had before,
And now when she asks, "Do you love me still?"
She hears, "I could not love you more".

So time and all life's circumstance
Can not dim this love so true.
When in another ninety years we'll hear them say,
"My dear, I will always always, always and forever...
and forever always,
love you."








Always

Quick Nav: