Easter Memories
by linda marie pharaoh-carlsonę


Easter is far and away, my very favorite time of the year. Not only is it the promise of new life, and a reminder of a love that overwhelms the senses of most, but it is when I seem to remember things long past in my life, the most.I have so many memories from way back that seem precious and few, but mine to keep tucked away in my heart, just the same.

I pull them out every once in awhile just for the smile that they bring to my heart. Back when mom had 'well' days and was able to do things. Joyful things that not only helped her to have a positive outlook on life, but everyone around her as well. And she spread her particular joy in many ways. I had published a story about mom and the Easter Bonnets she made. And she would always, always take us shopping for just the right new frilly Easter outfits. From head to toe, I was always decked out in yellow or pink chiffon and crinolines replete with bows and of course brand new patent leather shoes and matching purse, and topping it all off, the Easter hat or flowers in my hair. A sight to behold. I felt special for all of mom's efforts. Easter sparks feelings in me of anticipation and hope. Maybe because it was those times that I really felt like I belonged, like I mattered. And soon after Easter, there were other things to anticipate. Mom did many other things in very special ways as well. Not just at Easter.



May baskets were soon to follow. And oh, how people loved to receive mom's may baskets! And who could blame them? She (and I) would spend hours picking out the little paper cups, just the right size, not too big, not too small. And sometimes she would wash up little food containers because they were "just the right size" to make a very special one for someone special.
We would buy crepe paper rolls, the two-toned variety that you don't see anymore, pipe cleaners, glue. All the essential things for may basket making. It was truly an art, and my mom was the greatest may basket artiste' in the world (as far as I was concerned). She possessed a creative ability in so many areas that I would have loved to have her around my whole life, to show me all the things she knew. We would cut the proper lengths of ruffled crepe to fit around whatever container we'd end up using and either glue or staple it in layers, then we would thread another strip through long pipe cleaners and twist it around and around before attaching it to the sides of the container. Each piece was meticulously placed and twisted and shaped and adorned with ribbons, flowers or paper curls until a beautiful finished basket was ready to fill.
The filling was always fun, because of course we got to eat some of the popcorn filling that always went in first, and sample the various candies and m&m's that were placed loosely inside. There was often a bow, or a flower to add the last bit of flare, and many times there would be no candy at all, but a basket full of fresh spring violets, bachelor buttons, daffodils and pansies...they were all beautiful. And then off we'd go, loading them in small flat boxes to distribute to unsuspecting friends and loved ones.





I was the one who got to jump out and run up to the door and knock or ring the bell and then scurry off, so as not to be seen. What fun that was!! I remember that dad drove us which seemed his contribution to the day's activities.
Yes, I do remember those days. They are but a mist from my past that seems as though they never really happened, but thankfully, I know that they did. And although there aren't many of them, I cherish each one that springs to mind at about this time of year. And I once again seem to relive and experience those happy days all over again.


Making memories with mom was something I didn't get to do much of. She was sick more than she was well in life. And the times she was well enough to be out, she and dad kept busy. She was the piano player 'in the band' that was gone most week ends. I went along and slept on top of the coats piled high on the extra chairs and their chair trolleys at the Ogden City Hall Dances. And as time passed and I grew a bit older, I occasionally stayed home on my own, or with a friend. But the "special" memory-making days with mom so very vivid to me, were important to me then, and even some 50 odd years later, are still yet today.
So never underestimate the memories you make with a child. Your own or someone else's. It may well just be enough to last a lifetime and get them through the days where good memories become less and less. You will never know the impact upon a child's heart from the good you do. Never let an opportunity pass to become that vital cherished moment in time in a little person's recollection. These little moments have lasted sixty years in this old child's heart, and brought me comfort on a dreary enough day.They are part of my Easter Blessings and the Easter Memory kept within my heart.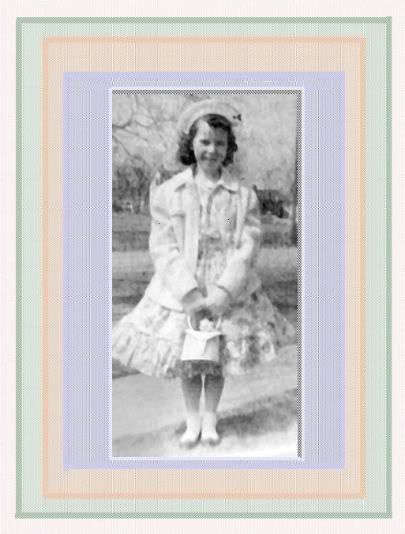 Do not copy or reproduce any part of this page - Graphics designed by linda m.pharaoh-carlson, do not use w/o prior written permission
Quick Nav: