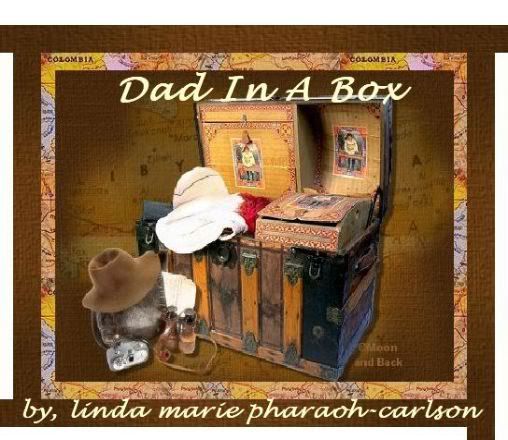 Dad In A Box by, linda marie pharaoh-carlson




How strange.
Sitting cross-legged on the floor in the center of this darkened room - sifting.
Piece by piece, bit by bit.
Connecting the dots, assembling the puzzle,
Counting the signs
Left behind in a pile no bigger than what would fit into an old
Tack box.
Some scribbled words jotted on this scrap of paper or that,
And pictures.
Old...faded...all black and white and amber, and surprisingly,
Some of me.
Surprising, considering that this man had been detached and
Unavailable to me for so many years.
And now?
Here I sit. Pouring over every tiny speck of life I can get my
Hands onto.
Trying so hard to find even the smallest spark of reality.
A validation of sorts, that I am indeed connected
Somewhere.
There's a crayon drawn picture with my name in childish Scrawl across the bottom.
Inscribed "to daddy". It appears that this daddy is holding a
Little girl who's crying from having fallen off her
Tricycle.
Is that how I saw you then?
My ultimate protector from all harm?
A relic saved through all these years by someone
I hardly knew.
I must have meant something to this stranger if he'd saved it
This long, don't you think?
How little time we have on earth to impart
The importance of love.
Some have in excess of seventy years
And still fail.
What manner of man was this to never have accomplished this In life?
Not to have been able to extend his heart in this simple way?
And yet...here lies proof that these things must have
Mattered.
At least sometime in the span of life that he'd lived.
Trying to make sense of it all, these scraps of vague
Intimation from some long and distant place,
Seems an exercise in futility, at best.
And still, they're here - like silent monuments of some
Ancient civilization one must excavate and explore.
Did I matter?
There are snippets of confirmation that at some point I did.
Did he matter?
He brought me life,
Then cut me loose to make it on my own.
I'm here now, so it must mean that he did.
Did we have a chance?
We missed our chances in life.
Words left unsaid, love withheld, lives undone
And unraveled.
Nothing but loose ends.
And all this, boiled down to cold and meaningless pictures and
"Things"
With lifeless faces and tidbits of unfamiliar places.
They are left to summon up a ghost life from the past.
A life that fits smartly into
Dad's old tack box.


lmpc©copyright, all rights reserved, from the book "Wanderings of a Wayward Heart - Ponderings of a Well-Found Soul"

Quick Nav: