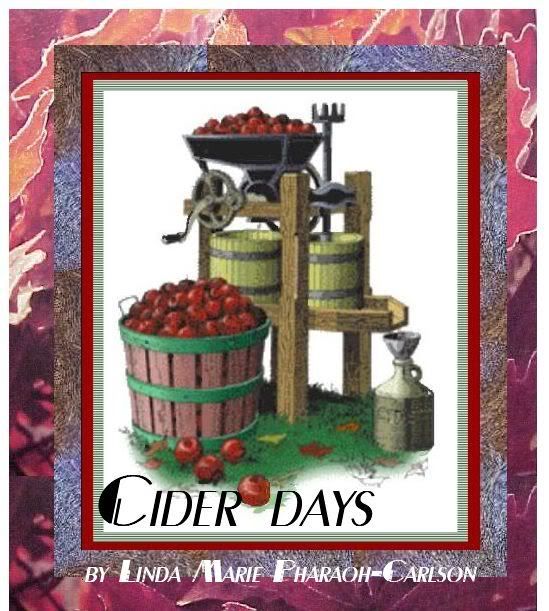 Cider Days by Linda Marie Pharaoh-Carlson©all rights reserved.



The chilly but beautiful fall days that are upon us have sparked a few memories
that I hadn't thought of in some time, today. One of the best is of time spent
with our friends the Nebbe's in years past,
making pressed apple cider at their home when our kids were younger.

Doug and Peggy were wonderful to always invite a yard full of friends when it was apple pressin'
time each year, to share in this fun and happy event. And beings they owned
the local bike shop business, and Doug being the very inventive genius that he was,
had come up with a fine way of combining the love of both these things at this time of year.
He did this by rigging up a bike to pedal the grinder wheel of the cider press, so as to
make it easier to churn the red and yellow juicy fruits into pure unadulterated nectar fit for kings.



People who had their own, or had access to apple trees, would bring baskets full
of the crisp, juicy, just right fruits to pool together into huge piles.
Everyone would then form an assembly line of washers, inspectors, and spotters who would
cut out any questionable areas and then fill up the hopper bins while Doug
(well, most of the time it was Doug), peddled the bicycle he had hooked to the cider press grinder gears,
which then ground them into apple pulp, squeezing out the juice simultaneously.
Sometimes one of their three boys or one of our two would hop on and ride
until they just couldn't push another peddle forward, and either Doug or one of
the other visiting cider enthusiasts would then take over.



Pears were often thrown into the mix, which then changed the flavor of the finished product
to something akin to heaven's own nectar straight from above and we would have tasters aplenty
filling their Dixie cups right out of the barrel, just because they couldn't wait
for the jugs to be filled and capped off!

The kids played, the people gathered and worked together. Laughed, caught up on
every local news happening and then some, and even sang choruses and a hymn or two
once in awhile. And at the end of a blissful time spent enjoying the weather,
the freshly made cider, and each other, everyone who participated
got to take home a jug or three of golden brown apple juice to stash away in their freezer
to take them through the winter months ahead, and enough good memories to last
a life time as well. It was wonderful!!



A few years back, Peggy lost her battle with cancer. It seemed she had contended with it for many months,
but there just weren't enough days left for all of us. We just didn't have her with us
near long enough. The world became a sadder place without her. She was a dear, dear person.

She reminded me so much of Ain't Bea on the Andy Griffith's Sheriff of Mayberry T.V. show.
She had that quiet strength and comical point of view on things that just endeared her to
all who knew her. She introduced us for the first time ever, to making apple cider.
What a fun and wonderful new experience! And, she was an accomplished and talented
choir director at our church...and a long time friend. She's the one that pushed and prodded me
through the years to sing a solo for the very first time. After all, I was good and people
deserved to hear it! Ha! I laughed at her reasoning, but by golly,
it was because of Peggy that I found the courage to
give it a try and then proceeded on to become a regular soloist in church and even in endeavors
such as the community's yearly cantata's and fun musicals through the years that followed.
I sang for weddings, funeral and special services, and became a real songbird of sorts,
at her encouragement and direction.
And I remember the very day that Peggy called me over to her home
to share a very exciting bit of news for the very first time ever with someone.
She had become personally acquainted with Jesus Christ,
and in ways that I knew that she had never experienced before,
and she wanted to share that wonderful news with me.
I laughed and cried with her that day,
knowing that she had received a wonderful
and lasting eternal gift with me that will stay in my heart's memory
forever.



The last time I got to see Peg was at another friends funeral. He too had succumbed
to a battle with cancer and it was heart-wrenching.
When we greeted, she gave me a very long and meaningful and lasting hug.
And I just knew right then, that it was going to be my last one from her.
I went home and cried.
That was one hug that I can still feel today!
Her warmth and love came flooding through that hug
as we stood on the landing of the church stairs that day, and I will never forget
how it made me feel. It was her "good-bye friend" hug to me.

All the wonderful things, the things that made Peggy so special
were wrapped up in that moment for me,
and I still have trouble believing that she's gone and miss her yet today.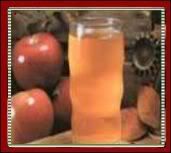 I know that she is now in heaven directing a glorious choir
and ... I have no doubt, sipping apple cider with the angels,
and being the busy bee she'd always been while here with us.
And while the leaves here turn and drop gently
over the still green grass outside my window,
on certain crisp and brilliant Autumn days, while they dance in the brisk fall winds,
I can almost hear sweet singing being lofted above the trees.
It's then I remember the beautiful Cider Days and Autumn memories.

I know that I'll keep those precious memories of the more happy and simpler times
we all spent together turning apples into heavenly cider,
singing, enjoying bits of life's treasured moments together
forever in my heart.
And I know too that one day, we'll all gather together
and do it all over again.



"Tis So Sweet to Trust In Jesus"
One of many shared hymns sung with Peggy and friends through the years.
Quick Nav: