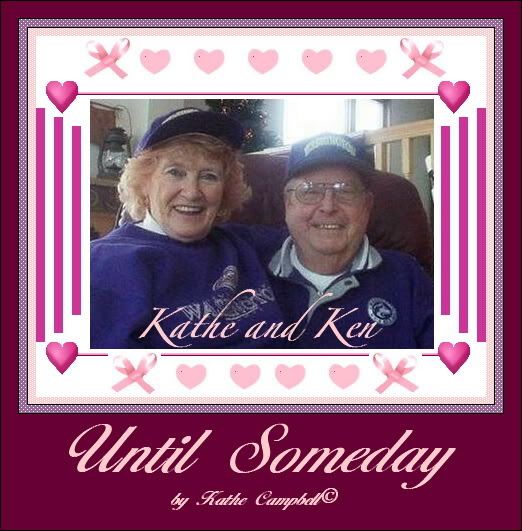 Until Someday
by Kathe Campbell
I gaze time-worn photos, easily recalling us, crazy in love,
As usual, it snows today, our 55th Valentine-Anniversary.
No schmaltzy cards, posies, dinners, I'll pretend this year,
We were such a together pair.


Working, doing, going, living well, raising fine offspring,
Wildly happy, then heavy-hearted times, aging, sickness.
Miserable weeks, hope, pent-up anguish, trying so hard,
Your healthy return was not to be.


You told me a thousand times I was your best medicine,
I feigned hope, cheer, blithe spirit, stiff upper lip, no tears.
And when you asked to die rather than languish in misery,
I gave you permission, as did our children.



Recalling your voice, touch, special times, leaving me low,
Climbing my way out, melancholy, releasing a trillion tears.
I pray each day, talk to our Lord, thank Him for His gifts,
Read the Psalms-they cover me well.


Lodge shining, barefoot kids, generations grace our deck,
Scents, sounds, comforting breezes, welcoming you home.
Rains ceasing, scattering your ashes, following your wishes,
Blessing our meal, best filets, rest.

Contentment now on this beautiful place, I pen our memoirs,
Pore over albums, relive our valiant trails, lest homesickness.
Loving, splendid, happily married children, looking after me,
Friends, a slew of grands, greats.



I dawdle around in matching sweats, diamonds on my hand,
An old sorority cap, a hard hat, over wisps of dwindling red.
Slogging along, boy's wides, toes turned up, down, nuisance,
Flaming rheumatoid, fingers drifting.


I pocket my cell, drive the ATV, bobcat, checking fences,
Donkeys, clean barn, bird watching, snapping wildflowers.
Spend my social security, silly sounding wine, cappuccinos,
Candles, dog jerky, donkey carrots.

Folks come calling, sipping sangria, watch geese swim, mate,
We adore newest ducklings, so beloved of yesterday, today.
"Your lives have been so full, adventurous, tell us more,"
I do till dusk, they listen in awe..



Sporting shimmering sweat like jewels, keeping it all moving,
Feeding in boxer shorts, T's, our cowboy jackets, old boots.
A wild sight, happy talking our dog, neighbor boys chuckle,
Lifting the heavy, spoiling me rotten.

Flakes fall in the still, where did autumn go, we're ready again,
You bid me stay, happiness is my voyage, not my destination.
I honor your lessons, the farrier, hay, vehicles, four-wheelers,
Irrigations, fences, I do them well.

Warm liquid eyes, waggling tails, await dawns for my stiring,
Yipping, running in circles, slurping my chin, as if I was God.
Love-light shining, hoping I'll stay, stroking sweet, soft heads,
Purrs say all is well, we're content.



Wintery chill, your blessed angels surround us, stay, comfort,
Holy keepers of our ranch flame, sleepless, fretting, victorious,
She's on her feet, morning's spring flurries, I feel like whistling,
Even with another boot-full of snow.

I gaze beyond white billows on high, tell our son I talk to you,
He laughs aloud, cuts a new post, repairs broken wire, a gate.
A third great-grandbaby, donkey doing well, new bird houses,
Our mountain smells sweet, just things.

My mirror tells me I'm getting so old, I enjoy being eccentric,
Wrinkles tell it all, living full, talking to myself, all other things.
Moose, deer, elk, foxes, squirrels, birds, their babes, nature,
I'll bloom in spring, not as dazzling.



So Happy Anniversary Dear, thank you for our incredible life,
I've tossed out all the ugly, keeping the useful, beautiful, joyful.
Tears befall me, missing you something fierce, giving time time,
I'm in charge of my own happiness.

Until Someday........Kath

2007 Kathe Campbell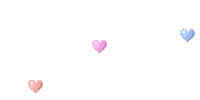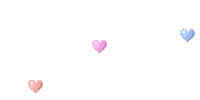 Quick Nav: