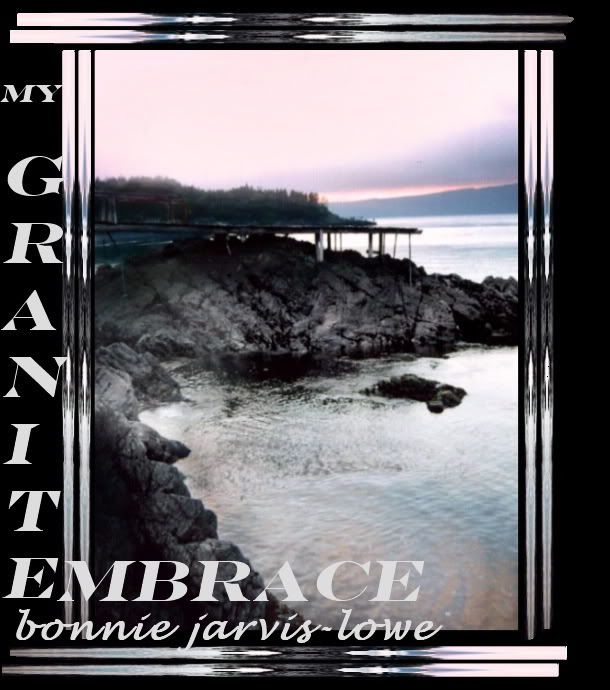 "MY GRANITE EMBRACE-A LOVE LETTER TO MY PROVINCE"
by Bonnie Jarvis-Lowe©copyright, all rights reserved

I hold in my heart a passionate and never-ending love for you Newfoundland and Labrador. It is a love that is strong and abiding love, and has been since I drew my first breath of your salt and fresh air more than fifty years ago. Regardless of where I go, my love for you never falters, and I will always come home to you.

Why do I love you so fiercely? Let me tell you why.

All my life I have felt your granite arms around me. Inside your embrace you provide me with a cloak that changes with your many seasons.



In winter it is a soft white cloak as the snow creates such amazing vistas. The cloak changes as spring begins, and that cloak is covered with tulips, the smell of fresh earth, the sound of trickling water, and new beginnings. It is a magnificent experience to feel the change as winter loosens its grasp and allows changes to begin.

Summer gives me a cloak of warm sun rays, long daylight, a collage of blossoms, the sound of boat motors, bountiful berries of different colors, their taste so very enjoyable as I sit on your rocky shore and listen to the ebb and flow of the tide and eat my fill of your gifts.

Autumn's cloak is made of many colors and is a collage that is both beautiful and breathtaking. The red and gold leaves, the brilliant scarlet bunches of berries which we call "Dog berries", and the cooler winds causing you to tighten your embrace as I marvel at the splendor you are revealing.