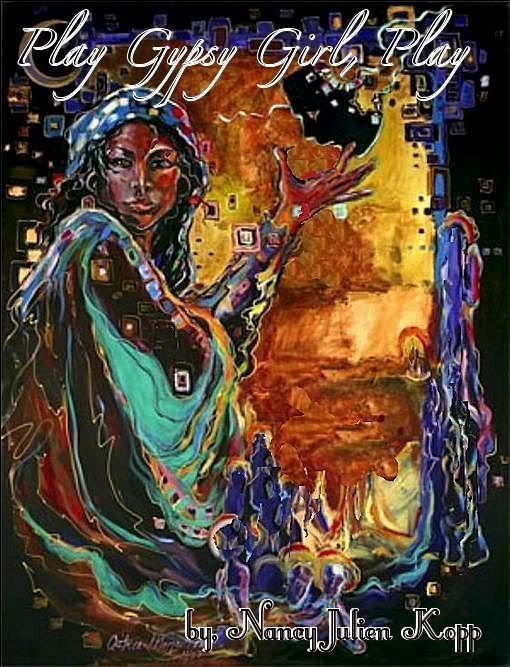 'Play Gypsy Girl, Play'
by Nancy Julien Kopp©copyright, all rights reserved



passengers on a train, gypsies
going nowhere; wheels kiss tracks
like passion-driven teens
as gypsy women dip needle and thread
into cheap and flimsy fabric,
fashion bits and pieces to sell.
pricked fingers bleed onto gingham
and voile, spit wipes it clean again.
little girls wear blue eye shadow,
swing immature hips and mimic
older sisters, thumb their nose at
mothers, aunties, and grans.
too soon they'll be snatching cloth,
sewing, wiping blood spots away
but for now, let them frolic,
midnight eyes glittering with
mischief, too soon the cares of a
gypsy woman settle on shoulders
like a burlap shawl, hardly noticed
until the years pull it tighter, hold
her captive in a smothering embrace.




play, gypsy girl, play for the years
roll quickly by; shake your tawny locks,
clap your jeweled hands, twirl until your
skirt billows round umber knees,
laugh and sing, before the heavy
mantle of womanhood crushes
girlish patter, cares and woes
etch themselves in deep ridges
on cheek and chin, shoulders curl onto
sagging breasts, veins make maps of legs,
and thinning tresses turn to silver,
eyes dull from anger and
sometimes fear, gaps where teeth
once looked like pearls on string.

weathered faces turn to watch the
young girls dance, needles never still,
minds spiraling backward.
play, gypsy girl, play
before the years sit like a rock on
your heart. the train speeds
through the night, whistle whining,
through sleeping villages,
while gypsy women sew and
little girls with blue eyeshadow
see only tonight.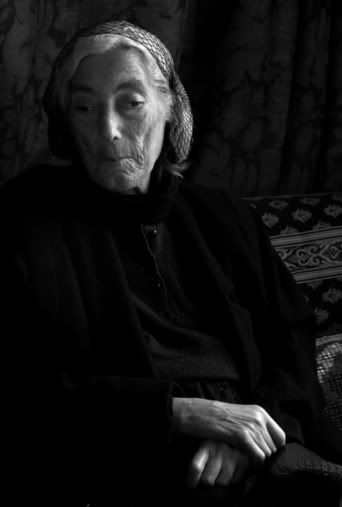 The poem was written after I had a dream about gypsy women on a train, and little girls playing among them. It tied for Poem of the Month at: alongstoryshort.net in May of 2010

Nancy Julien Kopp grew up in Chicago but has lived in the Flint Hills of Kansas for many years. She and her retired husband enjoy traveling, attending Kansas State football and basketball games, and family gatherings. Although she started writing late if life, Nancy has been published in eleven Chicken Soup for the Soul books, several other anthologies including Flashlight Memories at Silver Boomer Books, ezines, newspapers and magazines. She is an occasional poet. Once a classroom teacher, she now teaches through the written word.

Writer Granny's World
Be sure to visit!
Quick Nav:
graphics used are designed by LinGrafs, Inc. and elements obtained from a variety of sources
and altered for specific use with this poem. Main banner source: The Journey,
by Kathy Ostman-Magnusen, Fantasy Art Women: Fantasy Art - Women