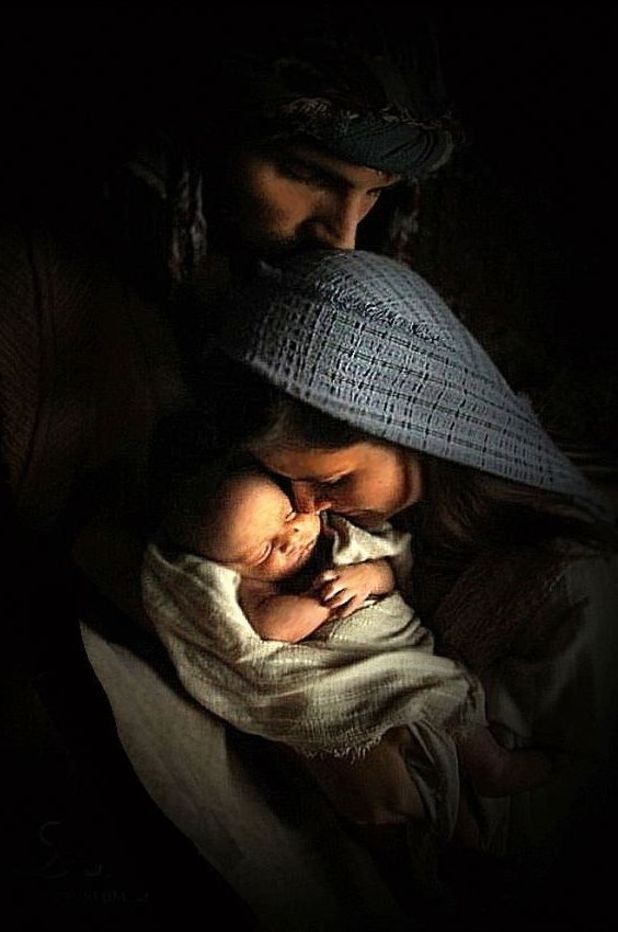 How Could They Know?

by Linda Marie Pharaoh-Carlson

So young and full of life and expectation.... so full of hope for a better world, a better place in which to raise this perfect and beautiful baby boy. How could they have possibly known? That this miraculous child would forever be the greatest love, the greatest scourge, the greatest story, that would ever be told...that would be replayed year after year after year, for generations to come?



Joseph, young and strong...in the prime of his life. How could he have known that the strength of this child would carry such an impossible burden, one like none other before or after Him. How could it posssibly be? That this tiny one so helpless and vulnerable, would prove the greatest strength for mankind of all time? Could he even possibly rear such a one as this? How could it be done? Harboring the greatest secret from the rest of the world in his heart, Joseph...the good man, the good husband and now representative of good fatherhood, entrusted by God Himself... wondered.



If ever there was a time that this good man questioned his own ability, it was now. Wanting only to shelter and protect his sweet young wife and child, Joseph breathed in the deepest breath of the new life that lay before him. Fraught with questions, there was but one thing to really know... God gave him something worth far more than precious gold, this gift resting quietly in His young mothers arms. And Joseph knew that God would guide him, even in his weakness, for their sake.

For upon this blessed day, there was no way Joseph could ever have known the ultimate pain of sacrifice...that his little charge, given by Gods own hand, would endure for the sake of sinful man.



And Mary...bless her soul, was filled with such joy and wonder. Her heart swelled with the sweet innocence of new life that fit so comfortably in her soft embrace, that came from God through her...that was a miracle, that was sent for greater purposes than anyone could ever know. How could she truly understand? That this precious and fully dependent little child would one day walk away from that loving embrace into a cruel and heartless world filled with bitter hate and sorrow? That her love would not be enough to keep him here...to keep him safe? That what lay ahead in their lives would break her tender heart into a million pieces, to then one day be put back together by the very son she held this very moment?

That it would be her son that would one day mend and heal broken hearts across the world? That other mothers and fathers who would lose their sweet babies, could turn to Him and be delivered and made whole again from the crippling grief of loss and despair?



She could only know one thing. That this day, her heart, her life...had changed forever. She and her wonderful husband, whom she loved so dearly... would now step onto pathways never imagined. Lives distinctly different, set apart from all others. Because of the great secret they kept. The miracle shared.

Because whatever God had in mind for them all, she knew He would see them through with what they needed from this day forward and forever.

And just what is it that you don't know about this life that you've been given to live this day?

What questions do you have that there just are no clear answers to?

Perhaps you've come to a place in time when all you have are questions. Or maybe you've begun a journey onto pathways not of your own choosing...and you just don't understand which way to go, who to trust, what to do...

It's so difficult to just trust. To say and then believe that God has a better or a different way for you and that you can depend upon His lead. When the circumstances of life do not line up with the ideals we have, the plans we make. Especially when the stuff of life seems quite opposite to what's in our hearts that seems right and good.



Try to imagine, if you will... the two young hearts back then, so overwhelmed with what was taking place in both their lives. Unbelievable...yes, maybe. But it happened. And they had no idea some three decades later, of the unbearable suffering they would experience at the loss of this one that was so very loved by them.

The one who would actually bring the answer to all of life's struggles not just for them, but for all the world in one single act of sacrifice. That the way would be made clear and sure for all who would travel the path made by the child they now so tenderly held.

It may take years to discover a greater purpose to our struggles. And we may never know. But the one thing we do know...



It is the same thing those two young parents knew then. That God had them all inscribed in the palms of His hands. That whatever they would face, or go through that life offered up to them, there was a God so big that He fit into a small enough bundle that a young mother could keep Him as close as an embrace. That she could bend and gently kiss His face...Mary, so favored...kissed the face of God. And she knew that she could trust Him too, this God of hers, to find a way to help the whole human race.

May the God of all comfort draw close to you this Christmas. May you know that same assurance of a bigger God that reached beyond greatness, to become vulnerable enough to confront a lost and darkened world face to face, and ultimately give His own life for that world that often seems so cold, unfriendly, and uninhabitable...and completely oblivious to Him. A world that seems not to care at all. A God that loves enough to sustain you through whatever may come.

Take with you into the New Year, His promise fulfilled through Christ the Lord, with confidence. That Gods unknown secrets may yet be found in individual hearts...sometimes, even yours.

God bless you and have a Merry Christmas!

Linda Marie Pharaoh-Carlson, copyright, all rights reserved



- place your cursor over the rolling text
to temporarily halt the scrolling movement for easier reading -



Quick Nav: